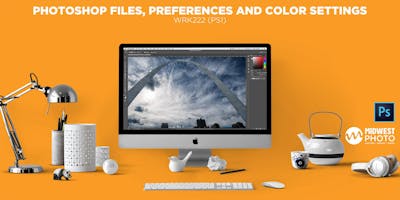 Files, Preferences and Color Settings-WRK222(PS1)
Tuesday, May 21, 2019 from 5:00 PM to 10:00 PM (EST)
More Information →
Files, Preferences and Color Settings-WRK222 (PS1)
Series Overview:
Experienced digital photographers will tell you that Adobe's Photoshop is the digital editing tool of choice. Photographers that know their way around the Photoshop application will tell you that it's an incredibly powerful tool with a myriad of solutions to everyday editing challenges. New Photoshop users can be challenged by the application's depth of features and apparent complexity, but at Soft Lite Studios, we have developed a structured series of classes that will make Photoshop not only easy to learn, but fun to learn as well. Our 16 different Photoshop courses will not only allow you to dissect Photoshop into easy to digest pieces, they allow you to select just the class that are right for your editing needs.
Introduction:
In this class, the first (1st) in our sixteen (16) course Photoshop series, Photoshop Files, Preferences and Color Settings, we explore in depth some of the fundamental foundation concepts of the Photoshop application. While at first glance some of the topics in this course may seem academic, yet a complete understanding of these concepts can provide a make or break approach to your Photoshop experience.
Course Contents:
The course begins with an in-depth exploration of the wide variety of graphical file formats that the Photoshop application supports. Each of the file types that we will explore supports different features and capabilities. Understanding the nuances of these file types allows you to make the correct selection for your Photoshop projects. Choosing the right format will provide you with all of the necessary features for your Photoshop project while selecting the wrong one can lead you to reduced features and even lost data. While we can make some generic file type recommendations, it is essential that you evaluate file type selection on a project by project basis. The appearance you image, as you share them, publish them and print them are dependent upon your file type selections.
In the second section of this class, we dedicate a significant chunk of time to reviewing and understanding the options and settings that exist within Photoshop's Preferences Dialog box. Besides the obvious interface modifications that one might make, Photoshop's Preferences settings have a dramatic impact on how Photoshop works and your experience working within the application.  Enabling various features, cursor selections, and default application settings, Photoshop's Preferences dialog is the place to go to set up the way you would like Photoshop to work for you. While this section of the course does not offer many hands-on experiences, it is critical information that will provide an immeasurable benefit to your Photoshop experience.
In the next section of the class, we will explore Photoshop's Color Settings dialog and the color preferences you will most likely want to use. Color Settings in Photoshop are often either overlooked by users or ignored altogether, which is too bad because these settings can have a dramatic impact on your final edited images. We will demystify the Color Settings options and talk through how to work with colorspace mismatches when they occur. While we are learning about Photoshop Color Settings, we will also discuss image colorspaces and some thoughts on end to end workflow. Color management need not be complicated; however, for your image's sake, it should not be ignored.
Throughout the course, we will use sample images and files to underscore the topics and examples presented. While we will not be doing any serious image editing, you will undoubtedly be able to see the effects of the Photoshop preferences and settings we will be exploring.
Course Prerequisites:
Participants enrolling in this class should have the following knowledge / experiences prior to attending this class:
General operating system knowledge as outlined below
General Prerequisites:
·

 Computer (with power supply)
·

 Photoshop (fully installed and ready)
·

 Familiar with computer basics (file management)
You will want to bring a laptop or computer to class if you wish to follow along using the exercise files that will be handed out. While most of the concepts and features demonstrated will be backward compatible with older versions of Photoshop, the instructor will be using the most recent version of the application. Many of the Photoshop concepts presented will be similar to operations available in Photoshop Elements. However, the instructor will not be able to make the translations of all exercises to equivalent features in the Photoshop Elements software. If you have recently subscribed to Adobe's Creative Cloud service, you will want to make sure that you have correctly installed the software locally and confirm its successful startup and operation before coming to class.
Many software complications, such as slow performance and lagging screen refreshes, are due to computer systems that are under-resourced. Continued satisfactory use of the software title covered in this course will be dependent upon your computer's configuration; please refer to the vendor's documentation to ensure that your system is adequately provisioned.
Last, but not least, you should ensure that you are familiar with the operation of your computer, its filing system and the shortcut keys and functions that it offers. A large percentage of the support issues that come up during class is rooted in the user not having knowledge of or a base level understanding of the operating system they are using on their computer. Most of today's mainstream software applications, provide features and functions based on capabilities provided by that computer's operating system. Failure to understand operating system provided functionality can lead to difficulty in understanding capabilities within the software we are teaching in class. Base level knowledge of your computer's filing system, storage locations, and operational shortcuts will go a long ways towards enhancing your experience in this course and with your computer system overall.
-This is one (1) individual Photoshop Class-
Looking for a Photoshop Class Package?
Photoshop Editor Series-Includes Classes WRK222, WRK224, WRK232, WRK234, WRK242 $300 Prepaid
Photoshop Power Editor Series -Includes Classes WRK222, WRK224, WRK232, WRK234, WRK242, WRK244, WRK252,WRK254, WRK312, WRK314 $600 Prepaid
Photoshop Master User Series-Includes Classes WRK222, WRK224, WRK232, WRK234, WRK242, WRK244, WRK252, WRK254, WRK312, WRK314, WRK316, WRK400, WRK410, WRK420,WRK500, WRK550 $960 Prepaid
Make Your Own Series- (Your choice of any of the five classes above) $300 Prepaid
You may request a refund up to one day before the class. For example, if your class is on a Saturday, you have until the Friday before to ask for a refund. We can provide a class transfer credit for a refund requested the day of the class or after the class has completed.