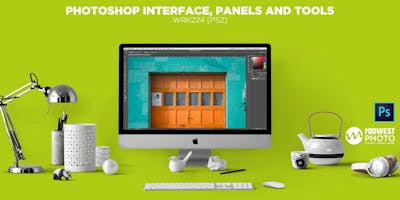 Photoshop Interface, Panels and Tools-WRK224 (PS2)
Wednesday, May 22, 2019 from 5:00 PM to 10:00 PM (EST)
More Information →
Photoshop Interface, Panels and Tools-WRK224 (PS2) 
Series Overview:
Experienced digital photographers will tell you that Adobe's Photoshop is the digital editing tool of choice. Photographers that know their way around the Photoshop application will tell you that it's an incredibly powerful tool with a myriad of solutions to everyday editing challenges. New Photoshop users can be challenged by the application's depth of features and apparent complexity, but at Soft Lite Studios, we have developed a structured series of classes that will make Photoshop not only easy to learn, but fun to learn as well. Our 16 different Photoshop courses will not only allow you to dissect Photoshop into easy to digest pieces, they allow you to select just the class that are right for your editing needs.
Introduction:
In this class, the second (2nd) in our sixteen (16) course Photoshop series, Photoshop Interface, Panels and Tools, we explore in depth the components of the Photoshop application which make up the user interface. As an application Photoshop offers a myriad of tools and features that can be brought to bear in editing an image. One knowing their way around the Photoshop window layout, the docked panels and the tool option strips, will make one's experience with Photoshop that much more rewarding. Throughout this course will we work to demystify these Photoshop components and give you the necessary clues to work smarter and more efficiently.
Course Contents:
In the first section of this class, we will begin by exploring the Photoshop docked windows interface. A newer feature in the Photoshop application that provides an elegant mechanism by which one can interact with multiple open documents simultaneously. The ability to work with more than one Photoshop document at a time gives the user some simple mechanisms for sharing elements between open Photoshop documents. Each tab that contains an open document also houses insightful and useful information about that document. The tabbed interface in Photoshop and its corresponding docking abilities provides the heart of efficient multiple document operations, learning to control and work with these tabs is vital to advancing your Photoshop knowledge.
In the second section of this class, we will continue our in-depth exploration of the Photoshop interface with a detailed look at Photoshop panels. While the tabbed document interface is where one would look to view the current state of their open document, Photoshop's Panels are where you find the elements that make up that document. Additionally the panel region and the Panels that live there provide access to a variety of resources and settings that can be applied to your document. The information and displays within Photoshop's panels can be used to navigate your image, evaluate its distribution of tones, dissect layers and channels within the document and perform a whole host of other operations as well. Not only will we explore each of the panels available to you, but we will also explore the docked interface that is available for arranging those Panels in the manner and order that makes sense to you. We will finish our exploration of Photoshop Panels, with a quick tour of saved workspaces within Photoshop.
In the third and final section of this course, we will thoroughly investigate Photoshop's Toolbar and the Tools that are available there. The Toolbar in Photoshop is a layered interface, with a number of similar tools being available, but not visible there. As a future Photoshop power user, you will want to know where to find every tool available to you, its specific operation and how to customize that tool to fit the exact need at hand. We will also explore one of Photoshop's newer features, custom toolbars and how to apply those in your workflow. As we explore each of the tools, in-depth, we will examine the Tool Options Bar and learn how we can leverage settings of each tool to maximum benefit.
As this class is a foundation knowledge class, we don't do a large amount of editing oriented exercises in this course. We do however, have plenty of sample files that will aid us in observing and learning the topics presented in this class.
Course Prerequisites:
Participants enrolling in this class should have the following knowledge / experiences prior to attending this class:
General operating system knowledge as outlined below

WRK222 (PS01) - Photoshop Files, Preferences and Color Settings
General Prerequisites:
·

Computer (with power supply)
·

Photoshop (fully installed and ready)
·

Familiar with computer basics (file management)
You will want to bring a laptop or computer to class if you wish to follow along using the exercise files that will be handed out. While most of the concepts and features demonstrated will be backward compatible with older versions of Photoshop, the instructor will be using the most recent version of the application. Many of the Photoshop concepts presented will be similar to operations available in Photoshop Elements. However, the instructor will not be able to make the translations of all exercises to equivalent features in the Photoshop Elements software. If you have recently subscribed to Adobe's Creative Cloud service, you will want to make sure that you have correctly installed the software locally and confirm its successful startup and operation before coming to class.
Many software complications, such as slow performance and lagging screen refreshes, are due to computer systems that are under-resourced. Continued satisfactory use of the software title covered in this course will be dependent upon your computer's configuration; please refer to the vendor's documentation to ensure that your system is adequately provisioned.
Last, but not least, you should ensure that you are familiar with the operation of your computer, its filing system and the shortcut keys and functions that it offers. A large percentage of the support issues that come up during class is rooted in the user not having knowledge of or a base level understanding of the operating system they are using on their computer. Most of today's mainstream software applications, provide features and functions based on capabilities provided by that computer's operating system. Failure to understand operating system provided functionality can lead to difficulty in understanding capabilities within the software we are teaching in class. Base level knowledge of your computer's filing system, storage locations, and operational shortcuts will go a long ways towards enhancing your experience in this course and with your computer system overall.
-This is one (1) indivudial Photoshop Class-
Looking for a Photoshop Class Package?Contact us!

Photoshop Editor Series-Includes Classes WRK222, WRK224, WRK232, WRK234, WRK242 $300 Prepaid
Photoshop Power Editor Series -Includes Classes WRK222, WRK224, WRK232, WRK234, WRK242, WRK244, WRK252,WRK254, WRK312, WRK314 $600 Prepaid
Photoshop Master User Series-Includes Classes WRK222, WRK224, WRK232, WRK234, WRK242, WRK244, WRK252, WRK254, WRK312, WRK314, WRK316, WRK400, WRK410, WRK420,WRK500, WRK550 $960 Prepaid
Make Your Own Series- (Your choice of any of the five classes above) $300 Prepaid