Photo Safari at the Wilds with Sigma!
Saturday, September 28, 2019 from 8:30 AM to 12:30 PM (EST)
More Information →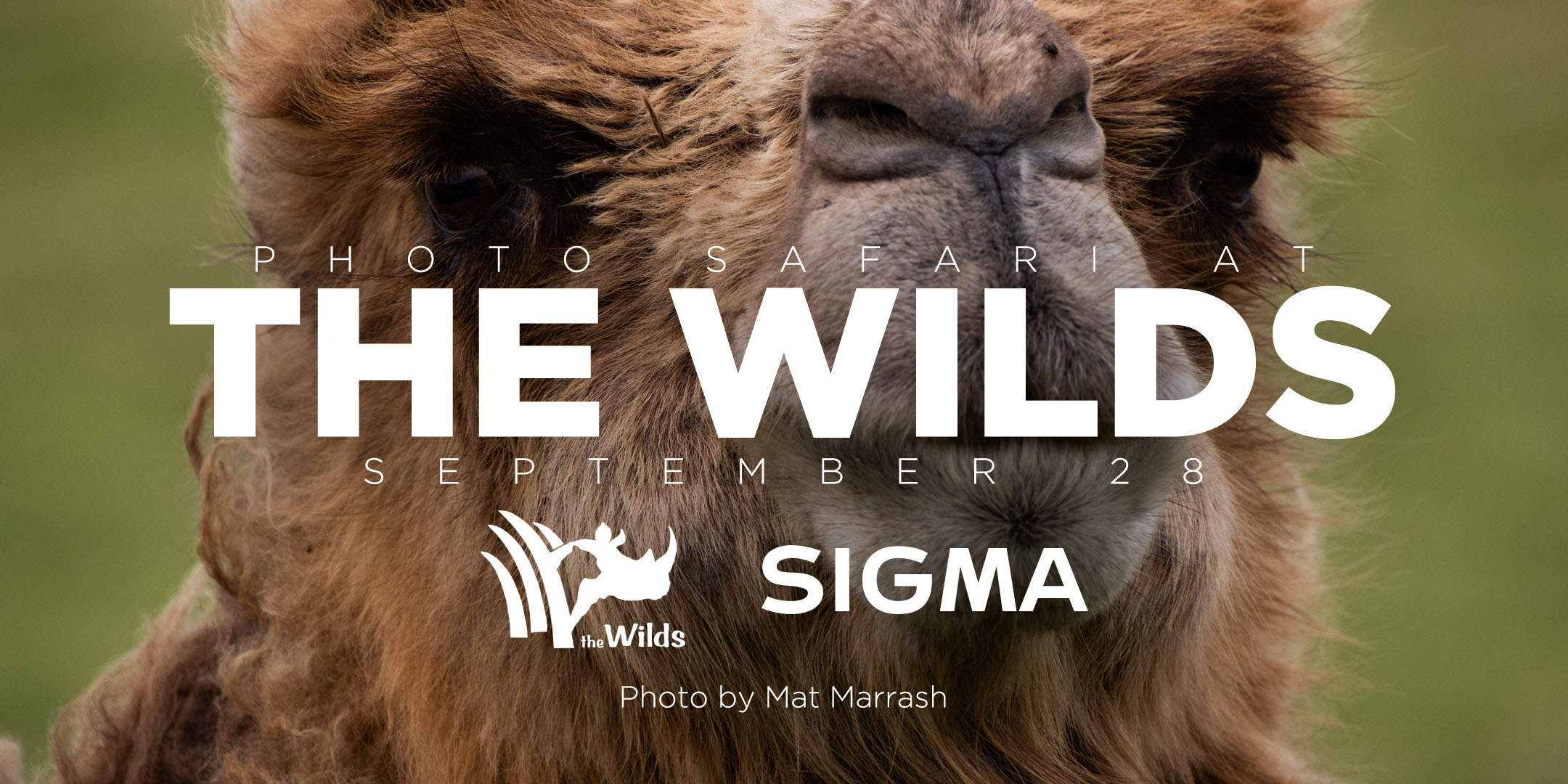 Join us for a unique Photo Safari experience at the Wilds and get the chance to shoot with awesome Sigma lenses!
See how Sigma lenses can help you to take your best wildlife photos yet!
Skill level: Basic camera and exposure knowledge recommended. 
Each attendee will receive 40% off 1 camera body rental booked from Midwest Photo Rentals for the safari event. All attendees will be emailed with the rentals specific information.  
We will have our own safari tour bus private to our group and the tour will feature an exclusive behind the scenes experience offered only to our group decided and at the sole discretion of the Wilds staff on the day of the event.  Please note that our group will be on an extended Open Air Safari tour which will consist of viewing the safari areas from a bus. Attendees will not have access to touch any of the animals at the Wilds during our tour. 
Please note! All attendees will need to bring their own camera bodies or book their reservation and collect the rental with Midwest Photo Rentals prior to the event! Make sure to book early with Midwest Photo Rentals for best item availability! Midwest Photo Rentals will not be open on Saturday morning prior to the event so please make sure to book and collect rental order before 9/28/19. No salesfloor demos will be available to rent for this event. All attendees choosing to rent gear will be subject to Midwest Photo Rentals policy.

Midwest Photo will not be bringing any gear to the event for attendee use with the exception of the Sigma loaner lenses. Please do not bring tripods, large bags, lighting gear, drones or any other large gear items to the event. We will be on a bus for the majority of our tour and will have space for each attendee limited to camera bodies, lenses and a monopod. 
Please read over the FAQ for the Wilds
We recommend you use the directions on our website at https://thewilds.columbuszoo.org/home/visit/plan-your-visit/directions over another source or a GPS.

Due to the high volume of construction in the area please check with The Ohio Department of Transportation before beginning your trip to the Wilds. 

http://www.ohgo.com

The nearest gas station is approximately 17 miles away, we recommend you fuel up before leaving the interstate. Please note the Wilds is located in a very remote and rural area where cellular service is very limited.

Large strollers and coolers are not permitted on tour vehicles.

Open-Air Safaris will be held rain or shine, please dress appropriately. In the event of severe weather an enclosed vehicle may be used for the tour.

We recommend comfortable footwear and casual clothing (dress for the weather), as there will be some walking. All visitor areas are ADA compliant.

Cameras are permitted; in consideration of our guests we do not permit tripods or camera stands to be used on tour vehicles. Tripods and camera stands may be used at destination stops.

No pets are allowed anywhere on the Wilds' property. Guests are not permitted to leave their pets in their vehicles in the visitor parking lot.
Visitors with service animals are welcome at the Wilds.Please contact us to make arrangements.
Directions to the Wilds can also be found here:
NOTE!
Do not be late! The Safari starts on time and can not wait for late arrivals!
FAQs
How do I know if this class is the right class for my level of interest and/or expertise?
Basic camera knowledge and experience is recommended.
What can/can't I bring to the event?
Tripods will not be able to be used for the event. Bring your camera gear, and your favorite zoom lens. Don't bring what you will not use because you will have to carry it with you.
Is my registration/ticket transferrable?
You may request a refund up to two days before this class. For example, if your class is on a Saturday, you have until the Thursday before to ask for a refund. Refunds and/or class credit transfers will not be issued to customers who sign up for a class but fail to attend.