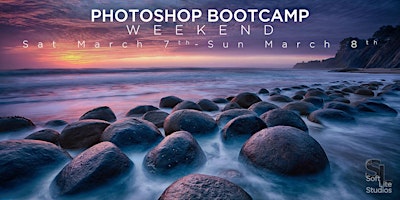 Photoshop Boot Camp Weekend-WRK600(PS50)
Saturday, March 7, 2020 at 9:00 AM - Sunday, March 8, 2020 at 5:00 PM (EST)
More Information →
Photoshop Boot Camp Weekend-WRK600 (PS50) 
This is a 2-day Workshop, running 9am-5pm Saturday and Sunday March 7th and 8th. 
Workshop Overview:
Experienced digital photographers will tell you that Adobe's Photoshop is the digital editing tool of choice. Photographers that know their way around Photoshop will tell you that it's an incredibly powerful tool with a myriad of solutions to everyday editing challenges.New Photoshop users can be challenged by the application's depth of features and apparent complexity, but at Soft Lite Studios, we have designed an intensive workshop to show you a wide cross section of capabilities in a two day, structured workshop. This is the perfect workshop if you are looking to quickly understand Photoshop's capabilities and begin your mastery of this industry leading application.
Introduction:
Are you looking for a comprehensive and in-depth introduction to a majority of the features in Photoshop? Then this is the workshop for you! Throughout the two days, we will take a strategic deep dive into Photoshop and the variety of image editing features that are available to the Photoshop user. By the time this workshop has come to its conclusion, you will have a thorough understanding of the variety of Photoshop tools and editing approaches that are available to you!
Course Contents:
The workshop starts with an exploration of Photoshop file types, the layout of the Photoshop interface, and the Toolbar within the application. Albeit less exciting than diving in and editing an image, this starting point builds the proper foundation for genuinely leveraging the power that exists within Photoshop.
We continue our work with Photoshop taking a hands-on look at using Photoshop tools that we just covered, and we start with some basic image editing and retouching. As we begin to learn the basic editing tools, we begin to explore the power of basic selections, and we start to become more comfortable with what selections in Photoshop can do for us. As we wrap up this section of the workshop, we will introduce you to the concept and power of Layers in Photoshop.
Photoshop power users will tell you that the real power of Photoshop lies in the practical understanding and use of Layers in their editing work. Working from that notion, we will dedicate our time in this section to uncovering many of the power features of Photoshop Layers, understanding how Layers interact with each other, and some additional insight into non-destructive editing approaches in the program.
Our natural next step is to build upon what we already know about Selections and learn how to make better, more accurate Selections. As we continue our exploration of Selections, we will naturally begin to want to understand the relationship between these Selections and Masks, as well as learn how to apply Masks to our Layers and the Adjustments that we have on these Layers. As we explore Masks, we will also unlock the power of Channels in Photoshop and begin to make ourselves familiar with the Channels Control Panel. Last, but certainly not least in this section, is our exploration of Color Modes in Photoshop and some fascinating power user techniques that can be applied to our images.
Our in-depth exploration of Photoshop continues with an overview of image compositing techniques. Compositing in Photoshop is often a mixture of understanding layering of images, as well as techniques that revolve around blending different exposures. Once we cover some fundamental approach to compositing, we will take a look at the Tools in Photoshop that make building multi-layered images possible. While we are examining these tools and techniques, we will take a look at Layer Blend Modes in Photoshop and how they can be used in building composites. As we wrap up our discussion on compositing, we will explore one of the most powerful ways to edit multiple layered images, Luminosity selections. An understanding of Luminosity in Photoshop opens up a whole new world of Photoshop editing techniques.
We wrap up our two-day workshop with an exploration of Vector-based layers within Photoshop, and the Vector Tools that Photoshop has available. We will explore Vector-Based Objects and Text Layers in-depth, looking at all the Tools Photoshop has available to help you create this advanced type of content. We will pay particular attention to Text Objects in Photoshop and the myriad of Text editing Tools that Photoshop has available. Last but not least, we will explore a couple of advanced methods for preparing your documents for print, which will help you to finally realized high quality printed output from Photoshop.
After this workshop, you are going to need a mental break, but you will also have exceptional knowledge of advanced Tools and advanced editing in Photoshop. This two-day workshop is the ideal launching point for beginning your advanced mastery of the Photoshop application!
Course Prerequisites:
Participants enrolling in this class should have the following knowledge / experiences prior to attending this class:
General operating system knowledge as outlined below
General Prerequisites:
You will want to bring a laptop or computer to class if you wish to follow along using the exercise files that will be handed out. While most of the concepts and features demonstrated will be backward compatible with older versions of Photoshop, the instructor will be using the most recent version of the application. Many of the Photoshop concepts presented will be similar to operations available in Photoshop Elements. However, the instructor will not be able to make the translations of all exercises to equivalent features in the Photoshop Elements software. If you have recently subscribed to Adobe's Creative Cloud service, you will want to make sure that you have correctly installed the software locally and confirm its successful startup and operation before coming to class.
Many software complications, such as slow performance and lagging screen refreshes, are due to computer systems that are under-resourced. Continued satisfactory use of the software title covered in this course will be dependent upon your computer's configuration; please refer to the vendor's documentation to ensure that your system is adequately provisioned.
Last, but not least, you should ensure that you are familiar with the operation of your computer, its filing system and the shortcut keys and functions that it offers. A large percentage of the support issues that come up during class is rooted in the user not having knowledge of or a base level understanding of the operating system they are using on their computer. Most of today's mainstream software applications, provide features and functions based on capabilities provided by that computer's operating system. Failure to understand operating system provided functionality can lead to difficulty in understanding capabilities within the software we are teaching in class. Base level knowledge of your computer's filing system, storage locations, and operational shortcuts will go a long way towards enhancing your experience in this course and with your computer system overall.
Light Breakfast and Lunch options will be provided each day. Beverages will be provided throughout the workshop. The class will break for lunch each day in which attendees can choose to stay at the studio or leave for lunch elsewhere. 
You may request a refund up to 7 days before this class. Refunds and/or class credit transfers will not be issued to customers who sign up for a class but fail to attend. Eventbrite's service fee is non-refundable.
What time to arrive/leave for class?
The Midwest Photo Learning Studio is a very busy space booked for events and classes year-round! The studio will open 30 minutes prior to scheduled class time start and close 30 minutes after scheduled class time end