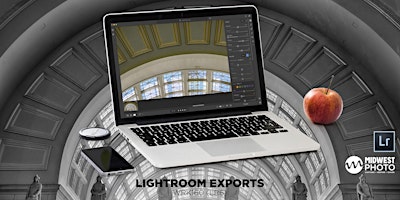 Lightroom Exports-WRK140 (LR6)
Tuesday, July 7, 2020 from 6:30 PM to 10:00 PM (EST)
More Information →
Lightroom Exports-WRK140 (LR6)
Series Overview:
Amateur and professional photographers alike will tell you that Adobe's Photoshop Lightroom is their go-to application for image management, Adobe Camera Raw based editing, workflow logistics, and bulk exports. Any photographer that has a significant volume of images to cull through appreciates Lightroom's sorting and cataloging features. Working photographers with multiple client demands to be met, utilize Lightroom to smooth out their workflow and make sure that edited results get delivered correctly. While Lightroom offers many intuitive features and simplistic operation, to truly taps its full potential, you must bring your notion of organization and understand the subtle mechanics of its non-destructive editing philosophy.
Introduction:
In this class, the sixth (6th) in our seven (7) course Lightroom series, Lightroom Exports, we explore in depth a number of the Lightroom tools and modules that are responsible for file level output. As a non-destructive editor, Lightroom keeps edits separate from the actual original files themselves, therefore any output of your edits, that you wish to create, must be managed by one of Lightroom's many output generating routines. It is important to note, that we have a separate course that is specifically dedicated to print output from Lightroom.
Course Contents:
This class starts off with an exploration of the non-destructive editing philosophy and a review of how Lightroom manages creation of edited output. We will then spend a significant period of time exploring Lightroom's Export routine. Lightroom has extremely powerful file export mechanisms, which are driven by Export Presets. These presets, which we will explore completely, allow for the on-demand generation of a variety of image file formats, coupled with an equally wide variety of format parameters. In today's social media world, being able to generate the correct output format is a critical skills, which Lightroom serves well.
We will continue our exploration of Lightroom's output capabilities, by examining additional modules within the application that generate alternate output media. The Slideshow Module, Book Module, Map Module, and Web Module are all modules that create output files that can be used both internal to the program and as media that can shared with others. We will tour each of these modules and learn the practicalities of each one.
By the time the participant is finished with this class, they will have a complete handle on all of Lightroom's image file output routines and will understand which formats serve which purpose best.
Throughout the course, we will use sample images and libraries to help underscore the topics and examples presented in class. A computer with the correct software installed, while not absolutely necessary, will provide helpful reinforcement of the topics presented.
Course Prerequisites:
Participants enrolling in this class should have the following knowledge / experiences prior to attending this class:
General operating system knowledge as outlined below

WRK110 (LR01) – Lightroom Getting Started

WRK120 (LR02) – Lightroom Library Module

WRK122 (LR03) – Lightroom Library Module Advanced Operations

WRK130 (LR04) – Lightroom Develop Module (Part 01)

WRK132 (LR05) – Lightroom Develop Module (Part 02)
General Prerequisites:
·

 Computer (with power supply)
·

 Lightroom (fully installed and ready)
·

 Familiar with computer basics (file management)
You will want to bring a laptop or computer to class if you wish to follow along using the exercise files that will be handed out. While most of the concepts and features demonstrated will be backward compatible with older versions of Lightroom, the instructor will be using the most recent version of the application (Lightroom Classic CC). If you have recently subscribed to Adobe's Creative Cloud service, you will want to make sure that you have correctly installed the software locally and confirm its successful startup and operation before coming to class.
Many software complications, such as slow performance and lagging screen refreshes, are due to computer systems that are under-resourced. Continued satisfactory use of the software title covered in this course will be dependent upon your computer's configuration; please refer to the vendor's documentation to ensure that your system is adequately provisioned.
Last, but not least, you should ensure that you are familiar with the operation of your computer, its filing system and the shortcut keys and functions that it offers. A large percentage of the support issues that come up during class is rooted in the user not having knowledge of or a base level understanding of the operating system they are using on their computer. Most of today's mainstream software applications, provide features and functions based on capabilities provided by that computer's operating system. Failure to understand operating system provided functionality can lead to difficulty in understanding capabilities within the software we are teaching in class. Base level knowledge of your computer's filing system, storage locations, and operational shortcuts will go a long way towards enhancing your experience in this course and with your computer system overall.
-This is one (1) indivudial Lightroom Class-
Looking for a Lightroom Class Package? Contact us!

Lightroom Basic User Series-Includes Classes WRK110, WRK120, WRK130, WRK140, $160 Prepaid
Lightroom Power User Series -Includes Classes WRK110, WRK120, WRK122, WRK130, WRK132, WRK140, WRK142 $280 Prepaid
You may request a refund up to one day before this class. For example, if your class is on a Saturday, you have until the Friday before to ask for a refund. Refunds and/or class credit transfers will not be issued to customers who sign up for a class but fail to attend. Eventbrite's service fee is non-refundable.
What time to arrive/leave for class?
The Midwest Photo Learning Studio is a very busy space booked for events and classes year-round! The studio will open 30 minutes prior to scheduled class time start and close 30 minutes after scheduled class time end.