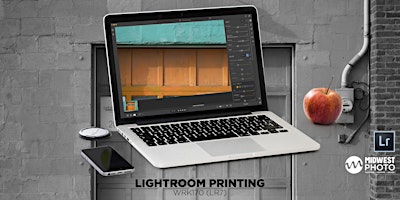 Lightroom Printing-WRK142 (LR7)
Tuesday, July 21, 2020 from 6:30 PM to 10:00 PM (EST)
More Information →
Lightroom Printing-WRK142 (LR7) 
Series Overview:
Amateur and professional photographers alike will tell you that Adobe's Photoshop Lightroom is their go-to application for image management, Adobe Camera Raw based editing, workflow logistics, and bulk exports. Any photographer that has a significant volume of images to cull through appreciates Lightroom's sorting and cataloging features. Working photographers with multiple client demands to be met, utilize Lightroom to smooth out their workflow and make sure that edited results get delivered correctly. While Lightroom offers many intuitive features and simplistic operation, to truly taps its full potential, you must bring your notion of organization and understand the subtle mechanics of its non-destructive editing philosophy.
Introduction:
In this class, the seventh (7th) in our seven (7) course Lightroom series, Lightroom Printing, we will explore Lightroom's capabilities for creating printed output. Our exploration will cover the entire range of concerns that dictate achieving high quality prints from the application. Whether you choose to print yourself, or have a service bureau do your printing for you, knowing how to control your printing preferences makes all the difference in the world. Comes learn how to make high quality prints, in Lightroom, with us.
Course Contents:
This class starts off with a review of aspect ratios and the effect they have on print cropping. We will then take a look at Lightroom's cropping features and how we can couple these with Virtual Copies to have print ready edit sets. This feature alone, significantly aids in the printing process and provides an unparalleled mechanism for creating multiple crop ratio versions for printing purposes.
The next section of the class takes us into the Print Module and is where we will begin to explore and understand print driver settings. These settings are one of the make or break control points in the printing process and understanding how Lightroom communicates with these settings is important. We will explore, in-depth, paper size management, color management, and media settings that are crucial for printing correctly from Lightroom. We will close this discussion out with a discussion on profile management and selection.
Our next section in class, once we have made ourselves comfortable with profile selection, is circling us back to the Develop Module. You might have thought we were done with the Develop Module, but once we have profiles selected and in play, we are going to take a look at Soft Proofing, which is supported in the Develop Module display. Soft Proofing allows us to evaluate Gamut and colors issues in are intended prints, and offers one more area of insight prior to committing to print.
We finish up our class, going back to the Print Module and looking at the variety of print formatting options that Lightroom offers. Lightroom allows users to make single prints, contact sheets and custom print packages. The number and variety of Print Presets offered by Lightroom is only limited by your imagination. Our last topic to cover in wrapping up this class, is to look at self versus service bureau printing and cover the processes involved in accomplishing both.
Throughout the course, we will use sample images and libraries to help underscore the topics and examples presented in class. A computer with the correct software installed, while not absolutely necessary, will provide helpful reinforcement of the topics presented.
Course Prerequisites:
Participants enrolling in this class should have the following knowledge / experiences prior to attending this class:
General operating system knowledge as outlined below

WRK110 (LR01) – Lightroom Getting Started

WRK120 (LR02) – Lightroom Library Module

WRK122 (LR03) – Lightroom Library Module Advanced Operations

WRK130 (LR04) – Lightroom Develop Module (Part 01)

WRK132 (LR05) – Lightroom Develop Module (Part 02)

WRK140 (LR06) – Lightroom Exports
General Prerequisites:
 Computer (with power supply)
·

 Lightroom (fully installed and ready)
·

 Familiar with computer basics (file management)
You will want to bring a laptop or computer to class if you wish to follow along using the exercise files that will be handed out. While most of the concepts and features demonstrated will be backward compatible with older versions of Lightroom, the instructor will be using the most recent version of the application (Lightroom Classic CC). If you have recently subscribed to Adobe's Creative Cloud service, you will want to make sure that you have correctly installed the software locally and confirm its successful startup and operation before coming to class.
Many software complications, such as slow performance and lagging screen refreshes, are due to computer systems that are under-resourced. Continued satisfactory use of the software title covered in this course will be dependent upon your computer's configuration; please refer to the vendor's documentation to ensure that your system is adequately provisioned.
Last, but not least, you should ensure that you are familiar with the operation of your computer, its filing system and the shortcut keys and functions that it offers. A large percentage of the support issues that come up during class is rooted in the user not having knowledge of or a base level understanding of the operating system they are using on their computer. Most of today's mainstream software applications, provide features and functions based on capabilities provided by that computer's operating system. Failure to understand operating system provided functionality can lead to difficulty in understanding capabilities within the software we are teaching in class. Base level knowledge of your computer's filing system, storage locations, and operational shortcuts will go a long way towards enhancing your experience in this course and with your computer system overall.
-This is one (1) indivudial Lightroom Class-
Looking for a Lightroom Class Package? Contact us!

Lightroom Basic User Series-Includes Classes WRK110, WRK120, WRK130, WRK140, $160 Prepaid
Lightroom Power User Series -Includes Classes WRK110, WRK120, WRK122, WRK130, WRK132, WRK140, WRK142 $280 Prepaid
You may request a refund up to one day before this class. For example, if your class is on a Saturday, you have until the Friday before to ask for a refund. Refunds and/or class credit transfers will not be issued to customers who sign up for a class but fail to attend. Eventbrite's service fee is non-refundable.
What time to arrive/leave for class?
The Midwest Photo Learning Studio is a very busy space booked for events and classes year-round! The studio will open 30 minutes prior to scheduled class time start and close 30 minutes after scheduled class time end.